Reports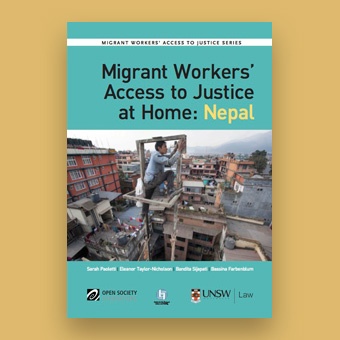 Migrant Workers' Access to Justice at Home: Nepal
The second study in the series on countries of origin, this report focuses on Nepal, the country with the highest per capita rate of labor migration in Asia. Based on a two-year empirical study, this report provides the first comprehensive analysis of the Nepali mechanisms that regulate labor migration, and provide redress to migrant workers who experience harms during recruitment and throughout the migration process. The study finds that despite Nepal's efforts to protect migrant workers, it is generally failing to hold private recruitment companies and agents accountable, and the vast majority of migrant workers are unable to access justice in Nepal or abroad.
The report reveals that, with some notable exceptions, the law that governs recruitment and placement of Nepali migrant workers is relatively robust, but its implementation and enforcement is weak. The report examines in detail each of the mechanisms that Nepal has established to enable workers to access compensation and other forms of justice when their rights are violated, and makes findings on the governance, operation, and effectiveness of each mechanism. The report also provides detailed recommendations for improvement, many of which could be implemented in the short to medium term.
---
Migrant Workers' Access to Justice at Home: Indonesia
This groundbreaking report is the first comprehensive study of migrant workers' access to justice in their country of origin. Using the example of Indonesia as a case study, the report analyses the mechanisms through which migrant workers may access justice in Indonesia or through its embassies, and the systemic barriers that prevent most workers from receiving full redress for harms that they suffer before, during, and after their work abroad.
The report finds that private Indonesian recruiters and insurers are rarely held responsible for rights breaches, and it makes detailed recommendations to improve migrant workers' access to justice and private sector accountability in Indonesia in 11 key areas, addressed to government, parliament, civil society, donors, and others. Migrant Workers' Access to Justice at Home: Indonesia provides a strong evidence-based foundation for advocacy and law reform within Indonesia and globally. It outlines the laws, policies, and procedures that govern the operation of each redress mechanism and can also function as a guide for civil society groups in Indonesia to better understand, use, and test existing justice mechanisms to enforce migrant workers' rights.
This report was prepared with the assistance of the TIFA Foundation and Open Society Foundations (OSF), the University of New South Wales Law School and the University of Pennsylvania Law School.  It is published by OSF in New York.